Winline's 30kW charging module has passed TÜV Rheinland cert
---
---
Winline's 30kW Charging Module Has Passed TÜV Rheinland Certification
Winline Technology Is Firm In Pursuing High Quality And Good Performance.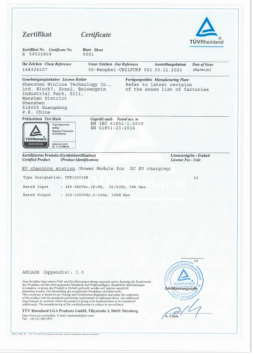 Recently, The 30kW Charging Module Independently Developed By Winline Technology Has Successfully Passed The Dual Certifications Of German T?V Rheinland EU & North America. As The World's Leading Testing, Inspection And Certification Organization, T?V Rheinland Has Been Known For Its Rigorous And Comprehensive, High-Quality Requirements, Fair And Professional Testing And Certification Services, And Is Highly Authoritative Among The World's Third-Party Inspection Organizations.
As One Of The Core Module Products Of Winline Technology, 30kW Charging Module Has Attracted Much Attention In The Industry And Has Been Widely Used By Domestic Customers Because Of Its Ultra Wide Constant Power Range, And Full Load Operation Performance Under High Temperature And High Reliability In Extreme Environments. The Completion Of The Dual Certifications Of T?V Rheinland EU & North America Has More Strongly Proved That The Module Products Of Winline Technology Have Reached The International Leading Level In Terms Of Safety Control, Performance And Quality Compliance, Which Will Improve The Market Development Of Charging Products In Asia, Europe, America And Australia.
Over The Years, Winline Technology Has Adhered To The Concept Of Innovation-Driven Development. While Improving The Core Competitiveness Of Products Through Continuous And High-Intensity R&D Investment And Accumulation Of Technical Reserves, Winline Technology Has Integrated The Craftsman Spirit Into A Mature And Perfect Quality Management System, And Finally Realized The Double Fit Between The Quality And Performance Requirements Of Products And Terminal Application Fields, Winning High Recognition From Markets And Customers Both At Home And Abroad. In The Future, Winline Technology Will Also Uphold The Belief Of "Keep Improving And Pursue Outstanding"To Bring Better Product Application Experience To Customers And The Industry.
---